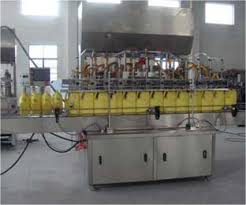 If you create a new plant or automate a current one, consider a separate machine or invest in a complete line, it is up to you to buy modern machinery. One thing to note is that the liquid filling system from Lube Oil Filling Machines Suppliers in India is the one that touches the liquid product directly. In addition to operational effectiveness, it also involves careful control of the inventory, without sacrificing product quality and hygiene.

When picking the correct liquid filling machine for your company, several aspects and requirements have to be considered. Let's talk about 5 of the most important:

● Your container -
It is necessary to determine which type of containers you propose to fill in while considering your liquid filling machine. Are you going to fill lightweight bags or bottles? What are the size, type, and content of bottles? Plastic or glass? What kind of cap or deck is needed? Crimp cap, fill cap, press-on cap, spray – endless options are open.

● Product details -
First, identify the viscosity of your product. Is it water-like and fluid or half-viscous? Or is it just sticky and dense? This allows you to assess the filler form that is best for you. For thick viscous commodities, a piston filler functions well, while a gravity filler suits finer fluid products better. Does your product have particles that have chunks of vegetables like in salad dressings or pasta sauces? They could block the gravity filler nozzle.

● Automation Level -
Even if this is your first journey into the automated liquid filling, the number of bottles you need to manufacture can be decided in a day, week, or year. Defining the output amount simplifies the measurement of the machine's speed or capability per minute/hour. One thing is certain: with increasing operations the computer selected should be able to expand. Liquid fillers should be upgradable and if possible the unit should fit more filling heads.

● Integration -
Another aspect to look at whether you can combine with your existing hardware or equipment the latest liquid filling system you plan to purchase in the future. This is important for your packaging line's overall productivity and to prevent outdated machinery from stuck later on. The integration of semi-automatic or manual filling machines may not be simple, although most automatic liquid filling devices are smoothly aligned.

● Accuracy -
Accuracy in the filling is an important advantage of automated systems. Or it ought to be! Containers that are not full will lead to complaints from customers while overfilling is waste that you can not afford.

Automation may provide the precise filling. Automatic filling machines have PLCs to monitor parameters of filling to ensure that the flow of the product to filling is consistent and accurate. Overflow is removed, which not only decreases the amount of time and expenditures spent cleaning the unit and the surrounding areas, saves money by saving goods.

Final Words:
Aseptic filling within a sterile environment is essential for biotech or pharmaceutical products; chemical products include explosion-resistant and fire retardant systems. In relation to such goods, there are specific rules and standards. It is imperative to mention this information before you select your Lube Oil Filling Machines. Ideally, the liquid supply chain should have flexibility; a variety of container sizes and types should be managed with minimum changeover time.
This entry was posted on May, 26, 2021 at 11 : 02 am and is filed under Lube Oil. You can follow any responses to this entry through the RSS 2.0 feed. You can leave a response from your own site.