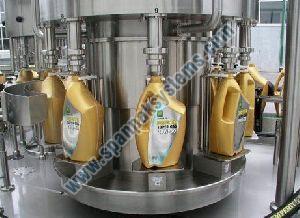 Packaging Machine Manufacturers in India offer a number of machines
which help to pack the products and introduce seal-proof items on the market.
For instance, screw capping machines are required for a number of different
products and industries. With the help of the high-speed bottle capping
machines, it is possible to fit the screw caps tightly and repeatedly. Presorted
caps are used for rotary cappers which are picked up and then placed on the
containers. The screw capping machines help to keep the products safe and
sanitised by reducing the product spillage. With reduced labor costs, it is
possible to exceed the product requirements with these machines.
Features of the machines
Packaging Machine Manufacturers in India also produce machines needed
for packaging the viscous items. These machines have advanced PLC control
support which offers optimum scope in handling the operations. The
advanced servo based film in the machines provides high accuracy in the
packaging procedures. Touch screen and the HMI support makes the PLC
control even more user friendly. Easy adjustment of film speed helps to derive
the mechanical designs more accurately. Self-centering paper roll hold, along
with the pneumatic collect provision, is a big support for the machine users. In
no film condition, you can also get the provision for setting the alarm. With the
easy changeover for the papers it becomes easy to replace them as and when
required. What makes them all the more famous is that these can be cleaned
very easily. Creams, lotions, ketchups, fruit juices, edible oil, adhesives are
some of the products which need liquid packaging.
Different types of machines used
For packaging of non-free flowing powders, powder filling machines are used
in industries like flour, spice powder, coffee, icing sugar etc. Here, the
vertically mounted Servo Motor is fixed in a precise direction along with the
fixed rotating speed. It also has the independently driven agitator. The
electrical panel is built with the protective circuit. With the self-centering
funnel, it is possible to significantly reduce the changeover time at the time of
cleaning. You can also change the factory setting and set them to work
automatically to get the consistent flow.
Induction sealing machine is ideal for both high volume production as well as
laboratory cap sealing. These machines will meet all the criteria for beverage,
food, oil, cosmetic as well as chemical industries. For both non-torque and the
cap less containers, induction sealer is the best solution. With reliable power
supply and highly efficient sealing, it will help to give you seal-proof products.