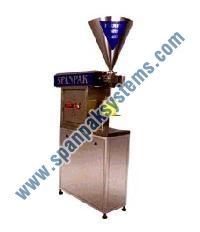 The function of a volumetric filling machine is to fill the products by volume. The machine helps in filling liquid by volume, as against filling by level or by weight. The machine is used to fill liquids of different thickness, which may include syrups or any foam. The volumetric fillers are basically available in two different types based on the quantity of liquid filled by machines. These machines fill the exact volume of liquid. The machine places a specific quantity of liquid, as they are already pre-measured with a closed cup. Volume fillers are largely used in those industrial applications or laboratories where the accuracy of volume matters a lot and is pre-desired.
Benefits
The main advantage of using a volumetric liquid filling machine is that it enables the exact amount of liquid to be filled and thus, it is extensively used in the food and beverage industry and pharmaceutical companies where accuracy matters the most. These machines are faster and help in filling liquid into the containers in no time as compared to the tiresome weight filling procedure. When you use this process in continuation, you achieve a good amount of efficiency as well. It also minimises wastage in the long run thus, improving the profitability of the industries.
Types of volumetric liquid filling machines
The volumetric liquid filling machines can easily fill liquid into bottles of any shape or size. The machines are generally available in various specifications and therefore, you can make the selection as per the requirement. Volumetric liquid filling machines are available in automatic as well as the semi-automatic format in the marketplace. Semi automatic liquid filling machines are suitable for small-scale operations while automatic filling machines are apt for quicker and massive filling operations in bigger industries.
The latest feature
The latest and updated volumetric liquid filling machines can also be described as multitasking equipment which can perform other functions as well other than filling liquid, which may include the function of capping and sealing the bottles.
One of the most popular and latest features of the volumetric liquid filling machine is that they have reduced industrial wastage to a greater extent by this function 'no bottle no filling system'. The feature no bottle no filling system ensures that the functioning of fillers halts when there is no bottle around for filling in the machine.
Therefore, we can conclude here that the availability of volumetric liquid filling machines has simplified operations in the industry and therefore they have emerged as an essential equipment in any industry.