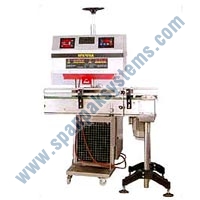 Packaging machines are equipment that is used to package items or components. At various levels of automation, this product category comprises equipment that fills, wraps, seals, cleans, forms, and packages. Packaging machines also comprise counting, sorting, and accumulating equipment. Some packaging activities cannot be carried out without the use of packaging machines. Many packages, for example, include heat seals to prepare or seal a package.
Packaging activities can be designed to handle a variety of package sizes and shapes, or they can be intended to handle only uniform packages, with the machinery or packaging line being customizable between production runs.

Functions and Benefits of Packaging Machines
The packaging machines manufacturer in India designs these machines in such a way that a single machine offers multiple levels of functions. Some of the functions performed by packaging machines are given below-
-Packaging machines boost labor productivity. Packaging with a sliding blister sealing machine is much faster than manual packaging. The candy packing machine is a nice example of this. Hundreds to thousands of candies can be wrapped in minutes at this location.
-These packaging machines ensure the quality of the package. Mechanical packaging is very necessary for exported goods in order to achieve consistency.
-The packaging machines also handle unique needs such as vacuum packing, inflatable packaging, skin packaging, and pressure filling.
-For bulky/heavy products, this machine reduces labor and enhances the working environment.
-The workers' health against the effects of dust and toxic/hazardous materials is also protected via the packaging machines, and avoid environmental contamination.

Various Types of Packaging Machines
The packaging machines manufacturer in India produces multiple types of packaging machines, each of which is designed for a specific purpose. The most common types of packaging machines are filling machines and sealing machines.

Filling machines are commonly, but not always, employed in the food packaging sector. The accuracy of the filling machine contributes to the effective maintenance of a consistent product for consumers. The filling machines are also designed differently to pack different food items. Examples of filling packaging machines are engine oil filling machines, vegetable oil filling machines, mustard oil filling machines, and lubricating oil filling machines.
Sealing machines are employed in a variety of flexible packaging applications. A heat sealer is used to seal many products in industrial, retail, pharmaceutical, and food packaging. Sealers are available in a variety of sizes and characteristics. They can be used in both manual and full automation processes. The most common example of a sealing machine is a heat sealer. Other numerous categories of packaging machines are also available in the market but these two are the most used ones.

Choosing Ideal Packaging Machines
The manufacturers of packaging machines in India produce multiple machines therefore it becomes quite difficult to choose the best machine. The major factor to be considered while selecting the packaging machine is the packaging style and the packaging materials. Another major factor to be taken care of is the type of product that is to be packed because different machines are available for different products. Then check the quality and finishing of the product packed by the packaging machines.
The packaging machines are more durable and pack all the products with zero defects.
This entry was posted on August, 07, 2021 at 10 : 12 am and is filed under Packing Machine. You can follow any responses to this entry through the RSS 2.0 feed. You can leave a response from your own site.